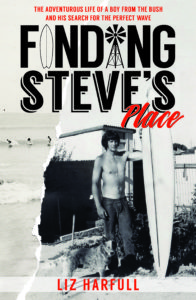 Steve Woolston would never describe himself as famous, but it's fair to say that he's a legend in certain circles, with extraordinary stories to tell. A gun shearer, who loves horses, dogs and fast cars, his childhood was a boy's own adventure, growing up near Keith in the South Australian bush. Then in the 1960s, he discovered the world of surfing. His search for the perfect, uncrowded wave, led him to the sleepy seaside village of Robe, where he set up the iconic surf shop, Steve's Place, and founded one of the world's longest-running surfing competitions.
To mark the 50th anniversary of the first event, Liz Harfull brings together the surprising story of Steve's life, from challenging adventures in the Outback to a surfing accident that almost cost him his life, shared with fascinating bush characters and some of the most famous names in Australian surfing. As one of his mates put it: 'Every day something funny or interesting happened, just because it did!'
'From dusty outback shearing sheds to the surf breaks at Robe, Harfull tells Steve's story with humour and warmth. Populated with characters such as 'Tuna Fish', 'Claw' and 'The Mexican', Finding Steve's Place delivers a generous serving of laid-back country soul alongside Steve Woolston's voyage of discovery through surfing and life.' Kristin Weidenbach, best-selling author, Mailman of the Birdsville Track: the story of Tom Kruse.
'A cracking tale about the remarkable life of a gun shearer turned gnarly surfer and so much more.' Leigh Radford, former National Rural Editor, ABC.
Copies of the book are available either direct from the author, or through the following outlets:
South Australia
Adelaide – Imprints (Rundle St), Dymocks Adelaide (Rundle Mall), Matilda Bookshop (Stirling), Mostly Books (Mitcham), Shakespeare's Books (Blackwood), Wakefield Press Bookshop (Mile End)
Beachport Post Office
Keith – Henry and Rose
Kingston – Williams Newsagency
Lameroo Post Office
Millicent Newsagency
Mt Gambier – Collins Booksellers
Naracoorte – NewsXpress newsagency
Robe – Steve's Place and the Robe Post Office
Tintinara – Heart of the Parks community craft and produce shop
Victoria
Casterton – Faroes Newsagency
Colac – Cow Lick Bookshop
Port Fairy – Blarney Books and Art
Lorne Post Office
Warrnambool – Collins Booksellers
New South Wales
Milton – Akwa Surf
Ulladulla – Harbour Bookshop