Tales of resilience from inspiring rural women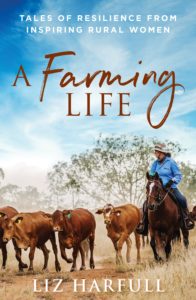 Making a living on the land in Australia can be tough at the best of times, but the past few years of seemingly endless droughts, floods and bushfires – not to mention a global pandemic – have made it even more difficult.
A Farming Life shares the uplifting stories of women from six rural families as their resilience is tested by personal loss, illness, fractured relationships, natural disasters and the challenges that come with working in a traditionally male-dominated world. Despite all they have faced, their defiance, tenacity and genuine humility shine through, as does their love of the land, and their hope for the next generation already lining up to follow in their footsteps. These heartwarming stories are powerful examples of resilience in action, at a time when many of us are searching for inspiration.
Women featured in the book include:
Ruth Robinson, Mannanarie SA – Ruth was among the first intake of 10 women admitted to the very blokey environment of Australia's oldest agricultural college, Roseworthy, in 1974. She liked to stir up her male counterparts by playing I Am Woman on the jukebox at the local pub. Ruth was only 23 when her father put her in charge of the family farm. She's still there, with a daughter waiting in the wings.
The Clark family, Finley NSW – A city girl from Melbourne, Helen Clark moved to the country and worked as a herd tester when she left school, and then married a dairy farmer. After her husband left, she was determined to keep the farm and the cows that she loved, with all four of her daughters stepping up to help at various times. Today, Helen, Kristen and Donna operate a highly successful dairy enterprise, running a thousand cows.
Amber Driver, Elkedra Station, Northern Territory – When Amber was a child growing up in regional NSW, she dreamt of marrying a cowboy. As a teenager, she packed her ute and headed outback to work as a jillaroo. Within months she met her future husband, John, whose family have held Elkedra for three generations. Amber may have realised her dream, but there were tough times ahead.
Belinda Williams and Michelle O'Regan, Bowen, Queensland – After Belinda's stepfather died suddenly, her mother, Pam, was asked by a manager in their horticulture business: "What are you going to do now? Women can't farm!" Together, Pam and Belinda went on to pioneer growing Halloween pumpkins in Australia, establishing the largest carving pumpkin growing enterprise in the country. Meanwhile, Belinda's partner, Michelle, has found a way to combine the farm with her role as a police officer, working with disadvantaged youth.
Kelly Dowling, Gunning NSW – After finishing high school, Kelly joined the Army and then became the first female district wool manager employed by Elders anywhere in Australia. But her heart lay back on the family farm, where she returned just in time for the Millennium drought. Under Kelly's management the enterprise has expanded to cover five properties running around 36,000 sheep. Motivated by a genuine passion for wool she has pushed herself too, overcoming life-threatening illness and heartbreaking loss.
Nancy Withers, Sandford Victoria – One of Australia's most respected kelpie breeders and trainers, Nancy established the Pomanda kelpie stud almost 50 years ago while living on Nalpa station on the shores of Lake Alexandrina in SA. She and her late husband, Tim, later developed properties in the South East of the state, where Nancy was responsible for managing the livestock. Along the way, loss and illness taught her to make the most of every day, while an aristocratic black and tan kelpie called Bullenbong Mate, shaped her appreciation of the iconic kelpie breed.